Sticky Date Pudding
with poached pears, sticky caramel & hokey pokey ice cream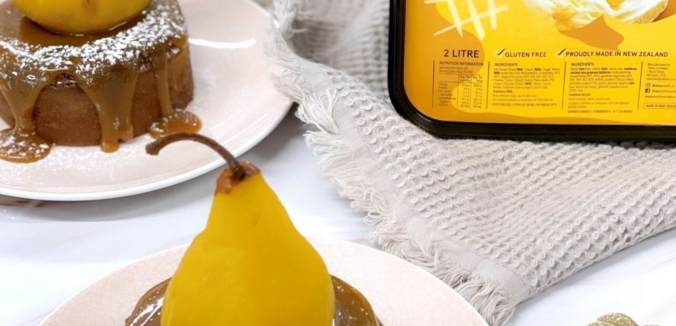 Ingredients
Chopped dates


3/4 cup

Milk

¾ cup

Baking soda

1 teaspoon

Butter

90g

Dark brown sugar

3/4 cup

Eggs (room temperature)

2

Vanilla extract

2 teaspoons

All-purpose flour

1 1/2 cups

Baking powder

2 teaspoons

Butter


½ cup

Brown sugar

1½ cups

Cream

1 cup

Pears


2

Cinnamon stick

1

Cloves

4

Star anise

1

Sugar

1/2 cup

Turmeric

1 tablespoon
Method
Pre heat oven to 180 fan bake, prep your Mini cake tins, you could also use muffin tins or even a deep slice tin for this recipe.

Place your dates & milk into a bowl & microwave for 2 minutes add your baking soda a set aside.


Put sugar, flour, butter & baking powder into your food processor blitz until combine. Add vanilla, date mix & finally your eggs blitz's again until combined.

Pour mixture into prepared tins and bake for 20 minutes or until a skewer comes out clean.

For the Caramel Sauce:

Melt butter in a small saucepan over moderate-high heat. Stir in the sugar, keep stirring while the sugar melts & dissolves into the butter. Add the cream & stir to combine. Continue to stir until the sauce begins bubbling, then reduce to simmer for 10 minutes until sauce is a glossy & thick.

Poached Pears:

Peel your pears put them into a pot with all the ingredients above cover the pears with water & cook on medium heat until soft.


Enjoy your sticky date pear puddings hot, with a drizzle of caramel & a scoop of hokey pokey ice cream.