Double chocolate meringue tarts
(Option to make as one big tart or minis as pictured)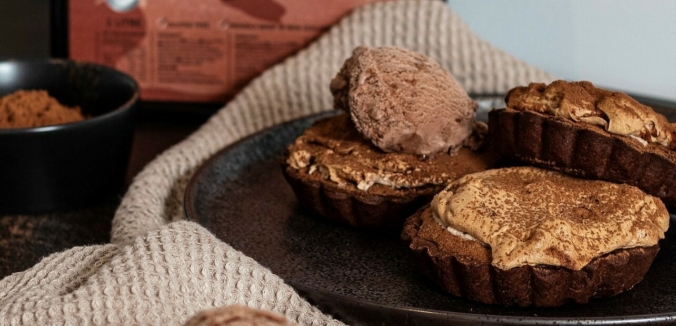 Ingredients
Chocolate Pastry:

Sugar


80g

Chilled unsalted butter, cubed

150g

Flour

250g

Cocoa powder

50g

Egg yolk

1

Ice cold water

5-6 tablespoons

Fudgy Choc Filling:

Dark chocolate

170g

Unsalted butter

150g

Sugar


80g

Eggs

2 whole & 3 yolk

Flour

90g

Meringue Topping:

Egg whites


5

Sugar

290g

Cornflour

1 tablespoon

Vanilla bean paste

1 teaspoon

White wine vinegar

1/2 teaspoon

Cocoa powder

40g
Method
1. For choc pastry, blitz together butter & sugar in a food processor until combined, add flour & cocoa it should start to look like a bit of a crumble texture, add egg yolk & ice-cold water blitz until combined, kneed into a disk shape & wrap in glad-wrap chill in the fridge for 30 minutes.

2. Once chilled roll pastry out onto a floured bench, then transfer to your pre greased fluted tart tin or mini tart tins, Blind bake @ 200 fan bake for 15 minutes ( 10 minutes for mini tins )

3. While your pastry is cooking start on your filling, put the chopped chocolate into a heatproof bowl over a pot of simmering water, melt gently add the butter & stir until combined take off the heat & set aside.

4. Using an electric mixer whisk the sugar, eggs & egg yolks until pale and creamy. Stir in the melted chocolate until it's all combine, then gently fold in the flour.

5. Lower the oven temperature to 180 & Spoon the chocolate filling into the cooked pastry case then bake for 15 - 20 minutes (5-7 minutes if mini tins)

6. To make the meringue. Use an electric mixer, and whisk the egg whites until they form stiff peaks. Gradually whisk in the sugar until you have stiff peaks that stand alone when you take the beater off, mix in the cornflour, cocoa, vanilla bean paste, and white wine vinegar & Pile on top of your chocolate tart.

7.Finally, return to the oven for 20-30 minutes (10- 15 minutes if using mini tins) it should have a thin crust on top but still be soft in the centre. Leave to cool before removing from the tin & topping with Deep South chocolate ice cream, drizzle in chocolate sauce for the ultimate chocolate overload!