Christmas Pudding Ice Cream Bombes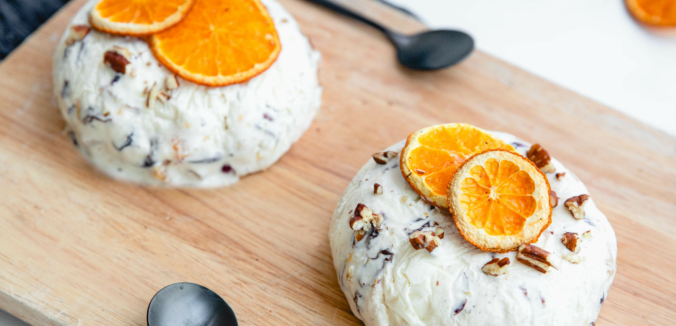 Ingredients
Brandy

3 Tbsp

White Sugar

2 Tbsp

Dried Fruit (chopped)

2/3 Cup

Zest of 1 Orange

Deep South Vanilla Bean Ice Cream (softened)

950mL

Pecans (roughly chopped)

1/3 Cup

Honey

To top

Dried Orange pieces

To Top
Method
Combine brandy and sugar in a jar. Place dried fruit and orange zest in a jar to soak in brandy liquid for 30 minutes, shaking every 10 minutes.

Place softened ice cream into a large bowl. Stir in dried fruit with the brandy liquid, along with chopped pecans and mix until combines with ice cream.

Line 4 small pudding moulds or bowls with cling wrap. Divide ice cream mixture between the moulds, smoothing the tops. Place in the freezer for at least 4 hours to set.

Once set, tip out each ice cream mould onto an individual plate. Top with a drizzle of honey and dried orange pieces.